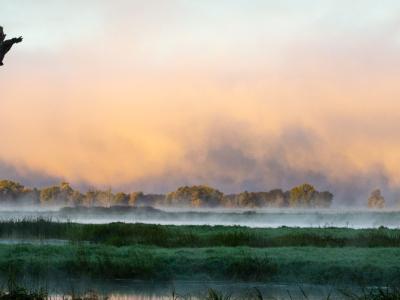 Goose Island lies on the Mississippi in the southern part of La Crosse County and Northern part of Vernon County. It has a large park with water access and trails. There is plenty of wildlife, including enough deer to call this "Deer Island". A view over the water to the west makes for wonderful sunset photos.
Notes:
There are parking lots and places to pull off throughout the park.
There is a campground onsite for overnight stays. 
There are restrooms at the campground and in small buildings in other areas of the park. The campground one has showers.
Directions:
The map is centered on the Shady Maple Trail/Interpretive trail.
43.726703241699, -91.214604644336
Have you photographed here?
Please help make this page better:
Anyone: Add a suggestion.
Members: Login to add image
Members: Login to your experience.
Location details
Address:
Goose Island Interpretive Trail
Stoddard, WI
Fees and hours subject to change. Call or check the location's website for the latest.
Hours:
Closes at night for non-campers.
Best during:
Spring, Summer, Fall
Dawn, Morning, Evening, Dusk, Night
WHAT OUR MEMBERS ARE SAYING ABOUT THIS LOCATION
This section coming soon!