John A. Latsch State Park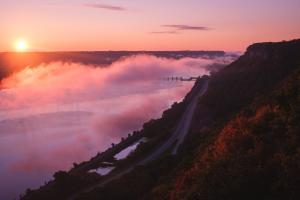 John Latsch is a self-service, unstaffed park that is managed by Whitewater State Park. It has 450 acres to explore including a half mile trail of steps leading to spectacular views of the Mississippi River on top of Charity Bluff.
Notes:
Day use only; no camping allowed.
No drinking water available.
Restrooms are "vault toilets" and are designated on the map.
There are 586 steps on the Riverview Trail that leads to the top of Charity Bluff.
Thanks to Robby McGuire for the suggestion and photos!
44.059958665368, -92.04770865
Have you photographed here?
Please help make this page better:
Anyone: Add a suggestion.
Members: Login to add image
Members: Login to your experience.
Location details
Address:
19041 Minnesota 74
Altura, MN
Fees and hours subject to change. Call or check the location's website for the latest.
Hours:
Daily from 8 a.m. until 10 p.m.
Best during:
Winter, Spring, Summer, Fall
Morning, Evening, Dusk
WHAT OUR MEMBERS ARE SAYING ABOUT THIS LOCATION
This section coming soon!
This location does not yet have any photos. Have you been here? Add yours!