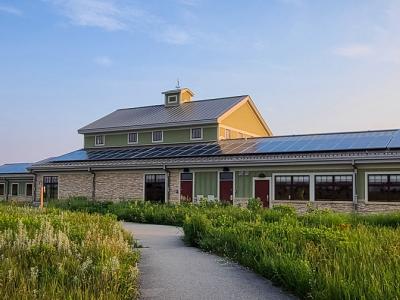 Upper Mississippi River NWFR-La Crosse District
(Onalaska Wildlife Refuge)
Located on Brice Prairie, this part of the Upper Mississippi River National Wildlife and Fish Refuge is known informally as the Onalaska Wildlife Refuge. It consists of a large parcel of prairie land with a visitor center on one and, an overlook of Lake Onalaska on the other end, and various trails in between. The trails are either paved or gravel and well maintained (except in the winter). 
The prairie is filled with flora, birds, and insects. While going off the path is not allowed, the flowers come right up to the trails on either side. It's a great place for macro photography and occasionally birds if you catch them alighting on the tall grasses. Or try to catch the swallows as they swoop out from their nests on the building.
Notes:
There is a large visitor center but it is only open during the times of day not best for photography.
Pets are allowed if leashed.
Much of it is wheelchair accessible via paved paths, including the one that goes to the overlook.
The bathrooms on the back of the visitor center are open even when it's closed.
43.927052515296, -91.2831463
Have you photographed here?
Please help make this page better:
Anyone: Add a suggestion.
Members: Login to add image
Members: Login to your experience.
Location details
Address:
5727 County Road Z
Onalaska, WI
Fees and hours subject to change. Call or check the location's website for the latest.
Hours:
Open during daylight hours only.
Best during:
Spring, Summer, Fall
Dawn, Morning, Evening, Dusk
WHAT OUR MEMBERS ARE SAYING ABOUT THIS LOCATION
This section coming soon!
This location does not yet have any photos. Have you been here? Add yours!